No recent updates in this category.
Why not...
Chris X hasn't earned any badges yet... have you?
General

Comic books. Horror movies (REAL horror movies, not the bullshit dreck that Hollywood vomits out these days), Slurpees, swimming, my beard and conditioning my beard, pro wrestling. Living in the Star Wars universe, being hopelessly lost in and obsessed with the 1980s(music, movies, pop culture, life in general),Transformers(G1), DJing (book me!), NES, Atari 2600, Dungeons and Dragons (and RPGs in general), Nature. Zoology. Marine Biology, Paleontology, Astronomy, Meteorology, etc ..

Music

.. MORRISSEY,

THE SMITHS

,

THE CRANBERRIES

,

NEW ORDER

,

JOY DIVISION

,

Sinead O'Connor

,

Duran Duran

,

Tears For Fears

,

Colin Hay/Men At Work

,

The Hooters

,

The A's

,

Robert Hazard and the Heroes

,

Hall and Oates

,

Depeche Mode

,

She Wants Revenge

,

Suede

,

My Bloody Valentine

,

Goo/Dirty-era Sonic Youth

,

The Dears

,

Codeine

,

old Lemonheads

,

The Beatles

,

Bruce Springsteen

,

The Smithereens

,

The Replacements

,

Social D

,

Johnny Cash

,

Interpol

,

The Cure

,

Siouxsie and the Banshees

,

Muse

,

Keane

,

My Morning Jacket

,

Bob Marley

,

The Specials

,

Madness

,

The English Beat

,

Joan Jett

,

The Donnas

,

Ramones

,

Misfits

,

Danzig

,

Descendents

,

Fugazi

,

Embrace

,

Rites of Spring

,

Quicksand

,

Rival Schools

,

Helmet

,

Faith No More

,

old NIN

,

old Ministry

,

Seven Red Seven

,

Celebrate the Nun

,

Camouflage

,

Information Society

,

Pet Shop Boys

,

Erasure

,

Human League

,

Giorgio Moroder

,

Vince DiCola

,

Kraftwerk

,

Visage

,

Ultravox

,

A Flock of Seagulls

,

Modern English

,

Sisters of Mercy

,

Pink Floyd

,

Rush's Moving Pictures album

,

Iron Maiden

,

and the first 4 Metallica records. mostly 80s indie

,

new wave

,

synth pop

,

postpunk

, etc. Classic metal. Almost no new hardcore. I prefer it when it wasn't contrived bullshit with no substance. .. ..

Movies

.... ..

here is the html code for this video. Please put it in your profile, in your bulletins, and post it EVERYWHERE:

..

Television

turn off your TV and turn on your mind.... read a book. "Sitting down on a couch

,

you watch

, a fucking slave to a TV show. You thought before but you sat and dropped. What did you learn? You don't even know, and I kid myself but my eyes are glued on this thing. It steals my time and wastes what I've learned. I'm holding out for a better deal, for something real. You know I'd like to say that I could spend a day at home with it left off. How strong's our will? I can't blend with the ads I see. They're better looking than me. You try to look your best,

but you'll never rest. Think

, it won't make you happy. A standard set that I just cannot live up to. It steals my time and wastes what I've learned. I'm holding out for a better deal, for something real. You know I'd like to say that I could spend a day at home with it left off. How strong's our will? Our lives are led by TV shows,

you know it's true. Instead of thinking

, we play Donkey Kong. There's something wrong with that. We're made to think that life's like a game show. So there we go again. The one to die with the most toys is the one who wins. I just can't stand it. Sitting down on a couch,

you watch

, a fucking slave to a TV show. Yout hought before but you sat and dropped. What did you learn? You don't even know. It's a brain vacation. A mental masturbation. It steals my time and wastes what I've learned. I'm holding out for a better deal, for something real. You know I'd like to say that I could spend a day at home with it left off. How strong's our will?..."

..

....

Books

..Dharma Punx by Noah Levine, The Dharma of Star Wars by Matthew Bortolin, anything by Derrick Jensen, Thoreau, Star Wars novels, comic books(lately: BONE, Dreamwave and IDW's Transformers(G1)lines, any and all Star Wars titles, Red Sonja, Savage Tales, Mouse Guard, Heavy Metal, Amazing and Ultimate Spider-Man, more), graphic novels, Sweet Pickles childrens books, the Charlie Brown 'Cyclopedia, radical literature and zines, and vegan cookbooks.

Heroes
Play

Play Next

Add to queue
About me:
....
..
IF I DO NOT KNOW YOU, PLEASE WRITE BEFORE ATTEMPTING TO ADD ME! I AM NOT HERE FOR YOUR FRIEND COLLECTION, I AM HERE TO ACTUALLY INTERACT WITH SOME DECENT PEOPLE! I WILL DENY YOUR STUPID ASS.
.. ..
"I am not what you call a civilized man. I have done with society entirely, for reasons which I alone have the right of appreciating. I do not therefore obey its laws, and I desire you never to allude to them before me again."
.. .. .. Militant vegan. Sex-positive straightedge. Green anarchist. Atheist. Despise the human race. I do not drive, nor own a phone. Never have, never will. Besides this computer, I'm pretty much a Luddite. I hate body hair. I fully support the actions of the ALF, ELF, Earth First!, Sea Shepherd, and SHAC. I don't believe in the concept of marriage- sorry, I don't need some bullshit church and/or a government whose authority I don't recognize to give me a piece of paper to validate my love. My feelings and my relations are nobody's business but my own and my partner's. Fuck you. Human reproduction is irresponsible and should be wiped out. I've gotten a vasectomy, and you should too. I have Tourette's (no, that doesn't mean I yell random obscenities, though sometimes I wish it did- at least then I'd have an excuse) I get really bad migraines. My back is fucked. I deal with some pretty bad depression. I'm in fairly severe pain (physical and mental) pretty much all day every day. I don't mask it with medication, that's for the weak. I fucking deal with it. I truly believe there is no hope for humanity, and I just sit here waiting for the end of it all. We damn sure deserve it. Come armageddon, come armageddon, come. .. I wish it was the 1980's. Everything was better then- music, movies, video games, pop culture, quality of life in general. ..

..
..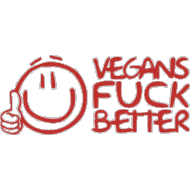 ..
.. I am a DJ. I want to spin at your club/bar/venue/party. Message me for details. I'll spin anywhere, anytime. Book me!..

.. "you'll never believe me, so why don't you find out for yourself?" ..
AIM- XYesImAwesomeX
.. Um...what else do I say that isn't covered in "interests" ?? ..
Basic Info on Vegan Health,Nutrition,Etc...
..
Vegan Society
www.vegansociety.com
..
VeganHealth.org
www.veganhealth.org
..
GoVeg.com
www.goveg.com
..
TryVeg.com
www.tryveg.com
..
Vegan Outreach
www.veganoutreach.org
..
FREE Stuff!
(Make sure you sign up for these!) ..
Vegan Outreach Starter Pack
http://www.veganoutreach.org/starterpack/free-vsp.html
..
AFA Vegan Starter Kit
www.afa-...org
..
PETA Vegetarian Starter Kit
www.vegetarianstarterkit.com
..
What to eat,Recipes,etc...
..
VegWeb
www.vegweb.com
(this one has a free weekly recipe email I recommend) ..
Post Punk Kitchen
www.theppk.com
..
PetaEats
www.petaeats.com
..
VegCooking.com
www.vegcooking.com
..
Making the Transition
http://www.vegcooking.com/transition.asp
..
I can't believe it's vegan!
http://www.peta.org/accidentallyVegan/
..
Vegan & Vegetarian Recipes
http://www.vegsource.com/
..
Other sites to check out
..
Raw Foods Bible
www.rawfoodsbible.org
..
Veg(etari)an restaurant guide
www.vegetarian-restaurants.net
..
Vegan Alcohol
http://www.veganporn.com/booze.pl
(I do not endorse drinking, I think it's fucking stupid; but I realize not everyone who is veg is edge, so here...that said, if you drink and drive, I wish death upon you and everything you love) ..
.. ..
.. .. .. ..
..
..DepecheMode
Who I'd like to meet:
face tattoos...
.... ..
.. Probably not you. DEFINITELY not your band. Stop sending me friend requests if you at least aren't going to take the decency to talk to me. This does not include messages that say "hey check out my music." Fuck you and your shitty band. Unless you're in my "music" favorites and I haven't added you yet for some reason, I probably don't care... Morrissey, Natalie Portman, Zooey Deschanel, and George Lucas.
Status:

Single

Here for:

Networking, Dating, Friends

Hometown:

Philly

Body type:

5' 10" / Slim / Slender

Religion:

Buddhist

Zodiac Sign:

Libra

Children:

I don't want kids

Smoke / Drink:

No / No

Education:

Some college

Occupation:

DJ, professional slacker
Art Institute Of Philadelphia

Philadelphia, PENNSYLVANIA

Graduated:

N/A

Student status:

Alumni

Degree:

None

Major:

Animation/Media Arts

1995 to 1997
Nightlife
Entertainment
DJ

I want to spin at your clubs and parties. Hardcore, punk, metal, and I specialize in 80s dance parties: synth pop, new wave, hair metal, the hits of the 80s. References available upon request.