No recent updates in this category.
Why not...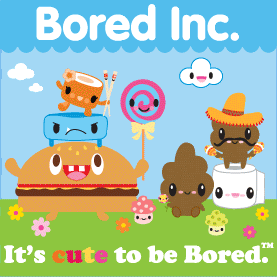 Aside from finding cute things to share with you, I am also an illustrator! I own the company Bored Inc. with my mom, check out the CUTE products we design!
I also have a second Myspace Curator profile, Vinyl Toys with TokyoBunnie please add me if if you're interested in pop culture and / or vinyl toys!
About me:
CUTE CUTE CUTE, I probably use this word about 100 times a day. I love spending time oohing and awing over the cuteness in life! I am constantly blown away by just how much cuteness there is in the world. Everyday something super-cute is born! And I wanna see it! Let me share the cuteness with you! I'll be posting the cutest animal pics I can find each day, with the hopes of bringing a smile to your face everytime you visit my page!
Who I'd like to meet:
I'd like to meet anyone who appreciates the cuteness in life! This is the place to find baby bunnies, sneezing panda cubs, and puppies in costumes. If it's cute, it's gonna be here!
General

I love posting about cute animals! It makes me happy and I hope it brightens your day! As the official Myspace Curator of Cute, this is the place to find sneezing pandas, baby bunnies, snoring piggies and cats in clothing... if it makes you say "awwwww" then it's gonna be here!

Music

Movies

Television

Books

Pride and Prejudice, Haroun and the Sea of Stories, The Particular Sadness of Lemon Cake, A Heartbreaking Work of Staggering Genius, Zeitoun, The Hours, The Metamorphosis, Kafka on the Shore, 20 Questions, The girl in the Flammable Skirt
Cute! with Courtney hasn't earned any badges yet... have you?
Cute! with Courtney has 514795 friends.