No recent updates in this category.
Why not...
Epica (Brasil oficial) hasn't earned any badges yet... have you?
Movies


• Live in Veenendaal •

The Obsessive Devotion (live) 30.3.2007


Beyond Belief (live) Escape, Veenendaal 30.3.07


Menace of Vanity (live) in Escape, Veenendaal


Indigo(NEW) + The last Crusade (live) Escape


never enough


About me:
Fan Page dedicado a banda holandesa Epica.
Divulgamos a banda pelo Brasil e pela America Latina.

Abraços
Os Moderadores. .. .. .. .. ..
Who I'd like to meet:
Epica é uma banda de metal sinfônico, com vocal feminino e vocal gutural, criada nos finais de 2002. Possuídores de dois álbuns cujas letras tratam o amor, o ódio, a agonia e o sentido da vida. Epica tem origem holandesa e foi formada por Mark Jansen (ex-guitarrista do After Forever).
No final de 2002, Mark Jansen saiu da banda After Forever e começou a procurar músicos para se integrarem ao seu novo projeto, inicialmente nomeado Sahara Dust. No começo de 2003, a banda contou com Helena Michaelsen (ex-integrante do Trail of Tears) como vocalista, mas logo depois ela abandonou o grupo e deu lugar para uma, até então, desconhecida mezzo-soprano, Simone Simons, namorada de Jansen. A banda estava completa com o guitarrista Ad Sluijter, baterista Jeroen Simons, baixista Yves Huts e o tecladista Coen Janssen. Em 2003 ainda intitulada Sahara Dust lançou a demo Cry for the Moon. No mesmo ano o nome da banda mudou para Epica, inspirado no álbum homônimo da banda Kamelot e (em junho) a banda lança seu primeiro álbum designado por The Phantom Agony com 9 faixas em que se destacam Cry For the Moon; Feint (que são dois singles do mesmo álbum) e The Phantom Agony.
Em 2004, Epica lançou o DVD We Will Take You With Us que incluía gravações em estúdio de músicas do álbum The Phantom Agony, making of, os vídeos deles, até o momento - Feint e The Phantom Agony e biografia. Chegado Abril de 2005 Epica lança Consign To Oblivion que fez aumentar vertiginosamente o número de fãs, não só portugueses, mas também outros países da Europa e América do Sul. Consign to Oblivion contém 11 faixas e nelas se destacam The Last Crusade; Mother Of Light; a faixa título Consign to Oblivion; Quietus e um dueto com Roy Khan, vocalista do Kamelot - Trois Vierges.
Na metade de Setembro de 2006 a banda acaba sua primeira turnê nos Estados Unidos e Canadá, com a banda Kamelot, neste mesmo tempo, o baterista Jeroen Simons deixa a banda. Em dezembro de 2006 Epica anunciou em seu website que Ariën van Weesenbeek (God Dethroned) será o baterista do próximo álbum da banda, que já está em processo de gravação.
Link-Me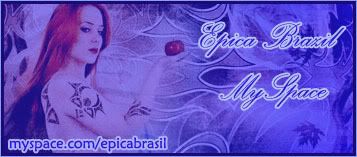 Status:

Single

Zodiac Sign:

Pisces